About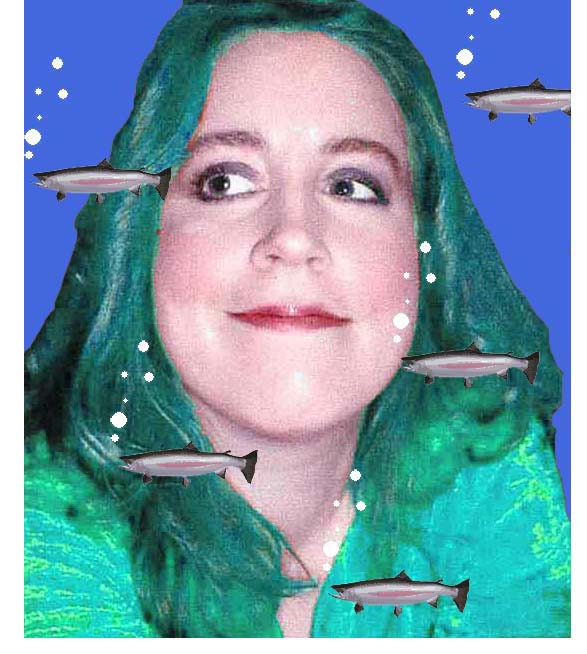 Brooke Trout is the stage name of Brooke Mason, a journalist with 20 years of experience. Currently Brooke is a contributing correspondent for Hunnypot Radio. Previously Brooke was a writer and former editor for The Santa Maria Times, Martin Literary Management, Mahoganygirl.net and Showsotros.com. She was also a contributing writer for Music Connection Magazine, All Access Magazine and Bitchin Entertainment.com. Additionally Brooke has worked as a media coordinator with nonprofits including The San Fernando Valley Arts Council (DCA), Friends of Taxco (PTPI), Canoga Park Improvement Association, Songsalive and AFSP; some for whom she also created newsletters. Brooke appeared as a monthly guest cohost for the internet broadcast Flat Cat Radio as well as Foodsotros, produced by the KC Universal Network for Showsotros.com.
Brooke Trout is also a singer/songwriter known for her polyphonic blend of rock, blues and surf tones. Her most recent musical project Brill is an indie-alt-acoustic duet with former band mate and Flat Cat Radio host, singer/songwriter Dave Strauss. The group released their debut album Fish Out Of Water on CDBaby as well as on iTunes. The album's first single "O Song" was featured on several programs including JVonD Radio in Boulder, CO, MuseBoat Radio in Las Vegas, NV, The Soupy Gato Show in The Netherlands with syndication in the UK and The Daily Dose on The Insomnia RadioNetwork. Fish Out Of Water has also been featured by Slacker Radio and Muzoic.com. You can check out music videos for Brill's O Song and Shine on Youtube.
Brooke Trout's previous albums include the 2012 release Chasing Windmills with The Red Herring which was recorded at Musician's Institute with Dan Hughley (Manley Laboratories) as well as at the historic 4th Street Recording studio in Santa Monica with Sejo Navajas (Cold Blue Rebels, The People's Party) and Denise Barbarita (The Roots, Stevie Wonder). Trout's sophmore album Networth (M-Pire Recording Studio, 2009) features mixing engineer Chuck Wilson (Andre 3000, Dr. Dre) and mastering by Grammy Award winner Nancy Matter (The Who, Ray Charles). Her debut album Bittersweet was recorded with Timon Marmex, creator of Rhythm Core Alpha (SoftEgg Studios, 2006).
These albums achieved airplay on several radio stations and podcasts, as well as positive reviews in the press where Trout was compared to alternative artists like Souixsie Souix, Exene Cervenka and Sinéad O'Connor. Networth featured the musicianship of two bands, The Treble Hooks & The Anchor Men, capturing a sound that was compared to Siouxsie & the Banshees, The B-52s, and X. The title track was awarded "Most Original In Alternative Rock" on Garageband.com. The Red Herring was also compared to The B-52s and Siouxsie & the Banshees. You can expect a dark surf rock sound from this fish! As music critic Billy Sheppard writes, "This level of music pain, in varying tempi, is a serrated cut of raw Souixshe, left in the sun near the mayonnaise for too damn long."
Chasing Windmills achieved radio play coast to coast, making playlists in major markets including WPPJ in Pittsburgh, PA, WRNR in Annapolis, MD, WRUW in Cleveland, OH, KUNM in Albuquerque, NM, WXDU in Durham, NC, WEFT in Champaign, IL and KMNR in Rolla, MO. The album also showed strong support from New York, charting for two weeks on WPNR in Utica, as well as getting play on WHRW in Bighamton, WMVL in Purchase and WCVM in Morrisville. The album also charted on WXIN in Providence, RI. Chasing Windmills also received great support in Massachusetts on the world famous WUML, getting airplay on a variety of the station's programs including Moustache For Men, Junk & Stuff, Smith…Brings Only Nice Goods and the heralded program Live From the Fallout Shelter which has been featured in SPIN Magazine. The Red Herring made the Los Angeles indie rock charts for The Deli Magazine and were also finalists in the Eventful.com Battle of the Bands to perform at The Roxy Theatre on the historic Sunset Strip.
Brooke Trout was nominated for All Access Magazine's 2007 Music Award Show for best female guitarist in a rock, melodic blues category, best female guitarist in a pop, alternative category and best songwriter. In 2008 Brooke Trout was made a Member of the Month for singer/songwriter organization Songsalive and included in Music Connection's Annual Directory of Artists & Bands. Brill's Fish Out Of Water was honored with the SongNet Award for 2016.
Albums
Brill – Fish Out of Water (2015) – Independent Release, Flat Cat Records
The Red Herring – Chasing Windmills (2012) Independent Release, 4th St Recording/Crazyville Productions
Networth (2009) Independent Release, M-Pire Recording Studio
Bittersweet (2006) Independent Release, SoftEgg Studios
Live Concert Highlights & Radio Appearances
Sept., 1, 19- Brooke Trout on Foodsotros, Los Angeles, CA
May 15, 19- Brooke Trout on Foodsotros, Los Angeles, CA
Mar. 18, 19- Brooke Trout on Foodsotros, Los Angeles, CA
Mar. 19, 18- Brooke Trout on Hunnypot Radio, Los Angeles, CA
Nov. 13, 16- "Shine" on MuseBoat Radio, Las Vegas, NV
Nov. 13, 16- "Shine" on MuseBoat Radio, Las Vegas, NV
July. 9, 16 – Brill Live@Coffee Klatch, San Dimas, CA
June 5, 16 – Brill Live@Adams' Pack Station Music Festival, Sierra Madre, CA
Mar. 20, 16 – Brill Live@Sunday Funday Acoustic Series, Bar 20, West Hollywood, CA
Mar. 16, 16 – Brooke Trout Live@SongNet Awards Showcase, Coffee Gallery, Altadena, CA
Sept. 19, 15 – Brill Live@Coffee Klatch, San Dimas, CA
Aug. 15, 15 – Brill CD Release Party@La Crescenta, CA
Aug. 2, 15 – Brill Live@Adams' Pack Station Music Festival, Sierra Madre, CA
Apr. 29, 15- "O Song" on MuseBoat Radio, Las Vegas, NV
Feb. 1, 15- "O Song" on MuseBoat Radio, Las Vegas, NV
Dec. 12, 14- "O Song" on The Daily Dose, Insomnia Radio Network
Dec. 7, 14- "O Song" on JVonD Radio, Boulder, CO
Nov. 20, 14- "O Song" on The Soupy Gato Show, Holland, Netherlands
Aug. 3, 14 – Brill Live@Matt Denny's, Arcadia, CA
Dec. 13, 13 – Brill Live@The Talking Stick, Venice, CA
Nov. 16, 13 – Brill Live@A Very Artful Holiday Faire, Northridge, CA
Aug. 18, 13 – Brill Live@Arts In The Park, Ventura, CA
Aug. 10, 13 – Brill Live@Coffee Klatch, San Dimas, CA
July 19, 13 – Brill Live@Muse On 8th, Los Angeles, CA
July 18, 12 – Brooke Trout Live@Emerson Universalist, Canoga Park Artwalk, CA
July 12, 13 – Brill Live@The Talking Stick, Venice, CA
July 10, 13 – "Instigate" on WEFT in Champaign, IL
June 22, 13 – Brill Live@Coffee Klatch, San Dimas, CA
May 25, 13 – Brill Live@Bravery, Lancaster, CA
Mar. 9. 13 – Brill Live@Starbucks, Glendora, CA
Feb. 7, 13 – Brill Live@The Good Hurt, Venice, CA
Feb. 2, 13 – Brill Live@The Fret House, Covina, CA
Jan. 22, 13 – Brill Live@Matt Denny's, Arcadia, CA
Jan. 2, 13 – "Instigate" on WEFT in Champaign, IL
Jan. 2, 13 – Brooke Trout Live@The House of Blues, Hollywood, CA
Dec. 15, 12 – Brooke Trout Live@Hidden Chateau & Gardens, West Hills, CA
Dec. 14, 12 – Brooke Trout Live@The Talking Stick, Venice, CA
Nov. 18, 12 – Brooke Trout Live@Hidden Chateau & Gardens, West Hills, CA
Sept. 5, 12 – The Red Herring Live@The House of Blues, Hollywood, CA
July 27, 12 – The Red Herring Live@Old Towne Pub, Pasadena, CA
July 25, 12- "Instigate" on WEFT in Champaign, IL
July 14, 12 – The Red Herring Live@Relay For Life, Lawndale, CA
July 13, 12 – The Red Herring Live@MOCO, Oakland, CA
July 11, 12 – "Ark Of The Covenant" on WEFT in Champaign, IL
June 27, 12 – "The Well" on WEFT in Champaign, IL
June 20, 12 – "Instigate" on WEFT in Champaign, IL
June 13, 12 – "I Am The Night" on WEFT in Champaign, IL
June 9, 12 – The Red Herring Live@Bang Theatre, Hollywood, CA
June 8, 12 – Brooke Trout Live@The Talking Stick, Venice, CA
June 6, 12 – "Dear John" on Nette Radio, Culver City, CA
June 1, 12 – Brooke Trout Live@2nd Street Jazz, Little Tokyo, CA
May 18, 12 – Chasing Windmills featured on WUML, Lowell, MA
May 11, 12 – Chasing Windmills featured on WUML, Lowell, MA
May 10, 2012 – The Red Herring featured on Sunset Island Music, Sarasota, FL
May 5, 12 – The Red Herring Live @ Domestock III, Altadena, CA
May 2, 12 – The Red Herring Live@The Rainbow Room, Hollywood, CA
Apr. 25, 12 – "Cities Under Siege" on WUML, Lowell, MA
Apr. 9. 12 – "Albert II" on WRUW, Cleveland, OH
Apr. 4, 12 – "Truly" on Nette Radio, Culver City, CA
Apr. 2, 12 – "Ark Of The Covenant" on WUML, Lowell, MA
Mar. 3, 12 – The Red Herring Live@Bang Theatre, Hollywood, CA
Feb. 29, 12 – Networth CD Review Flashback Show on Nette Radio, Los Angeles, CA
Feb. 26, 12 – The Red Herring Live@Old Towne Pub, Pasadena, CA
Feb. 25, 12 – The Red Herring Live@Bang Theatre, Hollywood, CA
Feb. 19, 12 – "Cities Under Seige" on WXDU, Durham, NC
Feb. 9, 12 – "Terminal" on KUNM, Albuquerque, NM
Jan. 31, 12 – "Valhalla" on WHRW, Binghamton, NY
Jan. 28, 12 – The Red Herring Live@Bang Theatre, Hollywood, CA
Jan. 13, 12 – Chasing Windmills CD Release Party @ 2nd Street Jazz, Little Tokyo, CA
Dec. 31, 11 – The Red Herring Live@The Red Handed, Topanga, CA
Dec. 3, 11 – The Red Herring Live@Bang Theatre, Hollywood, CA
Nov. 11, 11 – Brooke Trout Live@The Talking Stick, Venice, CA
Nov. 9, 11 – "Instigate" on Nette Radio, Culver City, CA
Oct 30, 11 – The Red Herring Live@The Stardust, Downey, CA
Oct 21, 11 – The Red Herring Live@The Stardust, Downey, CA
July 21, 11 – The Red Herring Live@The Rummage Rat, Canoga Park Artwalk, CA
June 10, 11 – The Red Herring Live @ El Cid, Los Angeles, CA
May 7, 11 – The Red Herring Live @ Domestock III, Altadena, CA
Apr. 7, 11 – The Red Herring Live @ The Roxy Theatre, West Hollywood, CA
Mar. 23, 11 – The Red Herring Live @ The Viper Room, Hollywood, CA
Mar. 19, 11 – Brooke Trout & Big Dave Live @ 4th Street Recording, Santa Monica, CA
Mar. 9, 11 – "Truly" on Nette Radio, Culver City, CA
Mar. 1, 11 – The Red Herring Live @ Busby's East, Los Angeles, CA
Feb. 16, 11 – "Roller Coaster Lover" on Nette Radio, Culver City, CA
Jan. 12, 11 – "Winter" on Nette Radio, Culver City, CA
Dec. 29, 10 – The Red Herring Live @ The Viper Room, Hollywood, CA
Nov. 19, 10 – The Red Herring Live @ House of Blues, Hollywood, CA
Nov. 14, 10 – Brooke Trout on Flat Cat Radio, Monrovia, CA
Oct. 3, 10 – The Red Herring Live @ St. Jude School Charity Car Show, Westlake Village, CA
Sept. 30, 10 – The Red Herring Live @ The Blue Cafe, Long Beach, CA
Sept. 12, 10 – Brooke Trout on Flat Cat Radio, Monrovia, CA
Aug. 31, 10 – The Red Herring Live @ Bar Lubitsch, West Hollywood, CA
Aug. 22, 10 – Brooke Trout on Flat Cat Radio, Monrovia, CA
Aug. 18, 10 – "Dear John" on Nette Radio, Culver City, CA
July 18, 10 – Brooke Trout on Flat Cat Radio, Monrovia, CA
June 27, 10 – Brooke Trout on Flat Cat Radio, Monrovia, CA
June 11, 10 – Brooke Trout Live @ The Talking Stick, Venice, CA
June 9, 10 – "Suburban Cocktail" on Nette Radio, Culver City, CA
June 6, 10 – Brooke Trout & Big Dave Live @ The California Institute of Abnormal Arts, Burbank, CA
May 22, 10 – Brooke Trout on KXBG, Bryant, AZ
May 12, 10 – "Dear John" on Nette Radio, Culver City, CA
May 5, 10 – "Get Lucky" on WomensRadio Independent Channel on Live365 – Carson City, NV
Apr. 9, 10 – The Anchor Men Live @ The Talking Stick, Venice, CA
Apr. 7, 10 – "Dear John" on Nette Radio, Culver City, CA
Mar. 21, 10 – Brooke Trout on Flat Cat Radio, Monrovia, CA
Mar. 16, 10 – The Anchor Men Live @ Bar Lubitsch, West Hollywood, CA
Mar. 7, 10 – "Groundhogs" on WomensRadio Independent Channel on Live365 – Carson City, NV
Feb. 28, 10 – Brooke Trout on Flat Cat Radio, Monrovia, CA
Feb. 17, 10 – "Roller Coaster Lover" on Nette Radio, Culver City, CA
Feb. 15, 10- The Anchor Men Live @ Universal Bar & Grill, Studio City, CA
Feb. 11, 10 – "Groundhogs" on WomensRadio Review Podcast, 19th Episode – Carson City, NV
Jan. 24, 10 – Brooke Trout on Flat Cat Radio, Monrovia, CA
Jan. 23, 10 – The Anchor Men Live @ Neon Venus Theatre, Los Angeles, CA
Jan. 18, 10 – The Anchor Men Live @ Universal Bar & Grill, Studio City, CA
Jan. 15, 10 – "Hide" on WomensRadio Independent Channel on Live365 – Carson City, NV
Jan. 3, 09- "Groundhogs" on WFDU 89.1 FM, Teaneck, NJ
Dec. 30, 09 – "Truly" on Nette Radio, Culver City, CA
Dec. 28, 09 – The Anchor Men Live @ The Talking Stick, Venice, CA
Dec. 27, 09 – "Postwar Child" on WFDU 89.1 FM, Teaneck, NJ
Dec. 26, 09 – "Hades & Persephone" on WFDU 89.1 FM, Teaneck, NJ
Dec. 26, 09 – The Anchor Men Live @ Crane's Hollywood Tavern, Los Angeles, CA
Dec. 13, 09 – Brooke Trout on Flat Cat Radio, Monrovia, CA
Dec. 6, 09 – Brooke Trout on Flat Cat Radio, Monrovia, CA
Nov. 25, 09 – Networth CD Preview on Nette Radio, Los Angeles, CA
Nov. 8, 09 – Brooke Trout on Flat Cat Radio, Monrovia, CA
Nov. 1, 09 – "Truly" on WomensRadio Independent Channel on Live365 – Carson City, NV
Oct. 31, 09 Brooke Trout on The Soupy Gato Show, MI.
Oct. 25, 09 – Brooke Trout on Flat Cat Radio, Monrovia, CA
Oct. 14, 09 – Brooke Trout on Knoxville's WDVX 89.9/102.9 FM, TN
Oct. 7, 09 – Brooke Trout Interview & Networth Selections on WomensRadio Review Podcast, 14th Episode – Carson City, NV
Sept. 27, 09 – Brooke Trout on Flat Cat Radio, Monrovia, CA
Sept. 20, 09 – Brooke Trout & Big Dave Live @ Friends of Taxco Benefit Concert, Canoga Park, CA
Sept. 16, 09 – "Roller Coaster Lover" on Nette Radio, Los Angeles, CA
Sept. 10, 09 Brooke Trout station ID on WomensRadio Independent Channel on Live365 – Carson City, NV
Sept. 9, 09 – "Postwar Child" on WomensRadio Independent Channel on Live365 – Carson City, NV
Sept. 1, 09 – "Get Lucky" on WomensRadio Review Podcast, 13th Episode – Carson City, NV
Aug. 22, 09- Indiegrrl Women in the Arts Conference – NetteRadio/Rockin Moms Stage -Nashville, TN
Aug. 22, 09- Indiegrrl Women in the Arts Conference – Tryxo Entertainment Presents -Nashville, TN
Aug. 21, 09- Indiegrrl Women in the Arts Conference – Texas Room Guerilla Showcase -Nashville, TN
Aug. 21, 09- Indiegrrl Women in the Arts Conference – WomensRadio Guerrilla Showcase & Live Broadcast -Nashville, TN
Aug. 19, 09 – "Suburban Cocktail" on Nette Radio, Los Angeles, CA
Aug. 16, 09- Brooke Trout on Flat Cat Radio, Monrovia, CA
Aug. 14, 09 – Brooke Trout Live @ The Talking Stick, Venice, CA
Aug. 12, 09 – "Suburban Cocktail" on Nette Radio, Los Angeles, CA
Aug. 2, 09 – The Anchor Men Live @ The Good Hurt, Santa Monica, CA
July 19, 09 – Brooke Trout on Flat Cat Radio, Monrovia, CA
July 5, 09- The Anchor Men Live @ The Good Hurt, Santa Monica, CA
June 27, 09 – Networth CD Release Party @ Guitar Merchant, Canoga Park, CA
June 21, 09 – Networth CD Release Party Preview on Flat Cat Radio, Monrovia, CA
June 16, 09 – Brooke Trout Live @ The Talking Stick, Venice, CA
June 12, 09 – Brooke Trout Live @ The Talking Stick, Venice, CA – Presented by Nette Radio
June 10, 09 – "Truly" on Nette Radio, Los Angeles, CA
May 24, 09 – Brooke Trout on Flat Cat Radio, Monrovia, CA
Apr. 12, 09 – Brooke Trout on Flat Cat Radio, Monrovia, CA
Mar. 29, 09 – Brooke Trout on Flat Cat Radio, Monrovia, CA
Mar. 5, 09 – "Dear John" and "Roller Coaster Lover" on WRNX 100.9 FM, Springfield, MA
Feb. 25, 09 – Special Networth CD Review Show on Nette Radio, Los Angeles, CA
Feb. 15, 09 – Brooke Trout on Flat Cat Radio, Monrovia, CA
Jan. 25, 09 – The Anchor Men Live @ The Airliner, Los Angeles, CA – Presented by Gorilla Music Productions
Jan. 18, 09 – Brooke Trout on Flat Cat Radio, Monrovia, CA
Jan. 14, 09 – "Roller Coaster Lover" on Nette Radio, Los Angeles, CA
Jan. 07, 09 – The Anchor Men Live @ The Derby, Los Angeles, CA – Presented by Can of Jam Productions
Dec. 28, 08 – Brooke Trout on Flat Cat Radio, Monrovia, CA
Dec. 22, 08 – Brooke Trout Live @ The Good Hurt, Santa Monica, CA
Dec. 21, 08 – Brooke Trout on Flat Cat Radio, Monrovia, CA
Dec. 20, 08 – Brooke Trout Live @ Canter's Kibitz Room, Los Angeles, CA
Nov. 30, 08 – Brooke Trout on Flat Cat Radio, Monrovia, CA
Nov. 20, 08 – "Roller Coaster Lover" on Altered States Paranormal Radio, CA
Nov. 9, 08 – Brooke Trout on Flat Cat Radio, Monrovia, CA
Oct 26., 08 – Brooke Trout on Flat Cat Radio, Monrovia, CA
Sept. 28, 08 – Brooke Trout on Flat Cat Radio, Monrovia, CA
Aug. 31, 08 – Brooke Trout on Flat Cat Radio, Monrovia, CA
June 13, 08 – The Treble Hooks Live @The Stardust, Downey, CA
June 9, 08 – Brooke Trout on KCAA Radio, San Bernardino, CA
May 17, 08 – Brooke Trout Live @Sepulveda Garden Fair, Encino, CA
May 7, 2008 – "Suburban Cocktail" on Nette Radio, Los Angeles, CA
May 2, 08 – Brooke Trout Live@Songsalive! Showcase, Hallenbecks, Los Angeles, CA
May 1, 08 – Brooke Trout Songsalive Member of the Month
Mar. 5, 08 – "Winter" on Nette Radio, Los Angeles, CA
Feb. 3, 08 – The Treble Hooks Live @ Mr. T's Bowl, Los Angeles, CA
Jan. 16, 08 – "Winter" on Nette Radio, Los Angeles, CA
Jan. 11, 08 – The Treble Hooks Live @ The Joint, Beverly Hills, CA – Presented by Emergenza Festival
Jan. 9, 08 – "Winter" on Nette Radio, Los Angeles, CA
Dec. 15, 07 – Brooke Trout Live @ Songsalive! Showcase, Hollywood, CA
Nov. 11, 07 – The Treble Hooks Live @ The Gig, Hollywood, CA
Nov. 3, 07 – All Access Magazine Award Show Nominee @The Knitting Factory, Hollywood, CA
Oct. 19, 07 – Brooke Trout on The Double D Radio Show, KCTY.org.
Oct. 13, 07 – Brooke Trout on WUPI 92.1, ME
Oct. 9, 07 – The Treble Hooks Live @ Safari Sam's, Hollywood, CA – Presented by Surge Event
Oct. 3, 07 – Brooke Trout on Nette Radio, Los Angeles, CA
Sept. 25, 07 – "Roller Coaster Lover" on The Soupy Gato Show, MI.
Sept. 6, 07 – Brooke Trout Live @ Songsalive.org Showcase, Tarzana, CA
Aug. 31, 07 – "Suburban Cocktail" on KEOL, OR.
July 09, 07 – Bittersweet on Rogue Radio, ID.
June 26, 07 – Brooke Trout station ID on The Soupy Gato Show, MI.
June 25, 07 – "Roller Coaster Lover" on Albany's 103.1 FM, NY.
May 22, 07 – "Steel" on The Soupy Gato Show, MI.
Mar. 20, 07 – "Prince Harming" on Nette Radio, TX.
Jan. 24, 07 – "Suburban Cocktail" on Nette Radio, TX.
Dec. 20, 06 – "Winter" on The Soupy Gato Show, MI.
Nov. 20, 06 – Brooke Trout Live @ BB Kings, Universal Citywalk, CA
 
Upcoming Shows

Follow

Blogroll

Links

Categories